Plastic everywhere: Plastic is essential to everyday life. Since it went on sale as a mass-manufactured product in the early 1950s, humanity produced 8.3 billion metric tons of plastic. The related issues have, however, now become all too apparent. Newspapers, TV documentaries and social media regularly publish shocking images and reports on plastic waste. The core of the problem is that many countries collect and recycle waste improperly and the citizens are unaware that waste does not belong in nature. At the same time, most types of plastic take hundreds of years to biodegrade. This makes establishing a functioning waste and recycling management system for plastic materials even more important.
Why plastic?
Plastic is now the standard material for a huge number of applications. For example, plastic is often used for packaging because it's able to fulfill an impressive range of functions – from making sure products stay undamaged while being transported and used, through to providing the right amount of product whenever it is needed. Since plastic packaging weighs less than other alternatives, it can even reduce the carbon footprint created during transport.
When waste becomes litter
Ideally, consumers should be able to dispose of empty packaging in a responsible way after they've finished using a product. This might include making it available for recycling or placing it into an effective waste collection system. Unfortunately, there is no globally standardized approach to handling waste responsibly, and awareness of the need to protect our environment also differs around the world. Alongside this, many countries do not have effective systems for managing waste. This means plastic waste can easily find its way into nature, as well as waterways and oceans. Over time, this waste is affected by sun, rain and wind. Over a long period of time, plastic waste can break down until it becomes microplastic.
Circular thinking
Many leading environmental organizations argue that banning the use of plastic would be unrealistic because of its unique properties. Instead, the most effective way to address plastic's impact on our planet is to transform our modern way of life and adopt a system in which all materials used can either be reused or repeatedly recycled. This solution – known as the circular economy – would cut waste, decrease resource consumption and reduce environmental pollution. Two requirements must be set for the recycling approach to succeed: Firstly, manufacturers must account for the reusability and recyclability of the materials they choose during the design phase; and secondly, public recycling systems must be implemented globally, such as the "Green Dot" in Germany.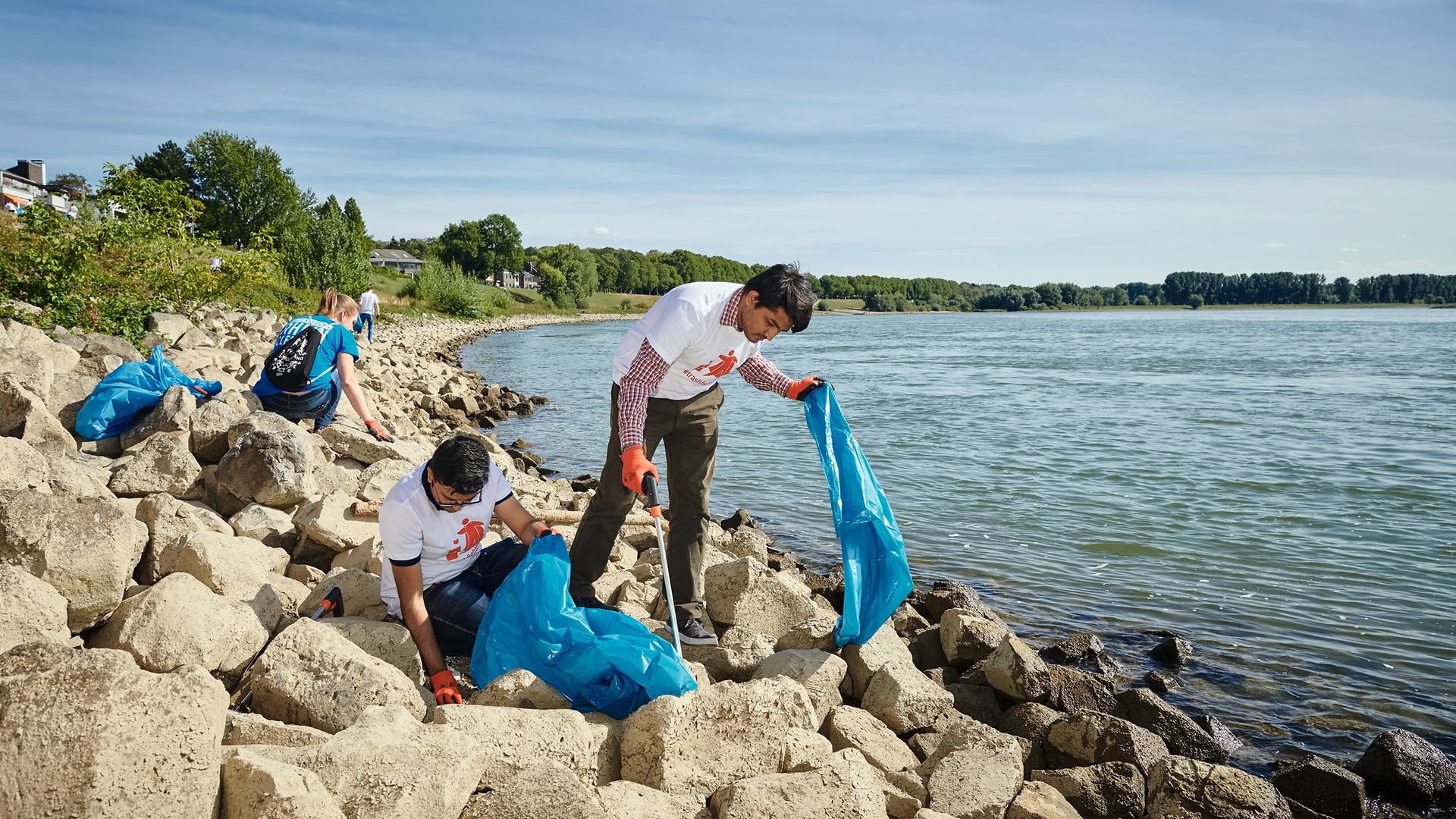 As part of our Sustainability Ambassador program, we launched our global Trashfighter initiative. It brings together our employees to fight against plastic waste in local parks and at beaches and riverbanks around the world. In this way, we aim to raise awareness about waste in the environment and encourage progress toward a circular economy, where everything is reused and nothing is wasted.
Joining together
Henkel is actively engaged in several partnerships aiming to drive progress toward a circular economy. For example, we're participating in the New Plastics Economy, an initiative led by the Ellen MacArthur Foundation that brings stakeholders together to redesign the future of plastics. We're also partnering with the Plastic Bank, a social enterprise aiming to stop ocean plastic and provide opportunities for people in poverty by enabling them to earn money or services by removing waste from the environment and making it available for recycling.
Alongside these partnerships, we've set ourselves ambitious targets for sustainable packaging. These are part of our holistic strategy that is built around promoting a circular economy. This approach brings to life our commitment to living up to our responsibility as a manufacturer of consumer goods – and work toward finding a solution to our planet's plastic problem.