What we offer
We are one global team at Henkel and internationality is lived on a daily basis. At the Henkel headquarters alone, colleagues from more than 70 nationalities contribute every day to our common purpose: creating sustainable value.
We offer more than just jobs: we offer an inspiring working environment in which we shape business innovations and brands.
A driven team and dynamic career opportunities help you to develop both personally and professionally. Our Triple Two job rotation gives you the unique opportunity to boost your international experience, expand your skill set, and develop a network of expert contacts.
Our Employee Benefits at a Glance 
Training and Leadership Development
Talent Management
International Opportunities
Compensation
Development on every level
Not only do we continually optimize the quality of our products, we also seek to improve every day as a worldwide unit. Henkel employees benefit from a variety of vocational training and further education using the very latest techniques and technology. What we offer goes far beyond the classical classroom training. Our aspiration: lifelong learning – on-the-job, trough formal trainings, from your peers or digitally.

Henkel Global Academy
Whatever your level – student, graduate or qualified professional – our goal is simple: we want to give you the best possible chance to develop your skills fully. You will be able to participate in language classes and skills seminars, ranging from cross-cultural management to personalized coaching sessions. In this way, we provide you and our global team with first-class knowledge.

Leadership Center: at the cutting edge of executive education
For our worldwide circle of high-potential leaders and high performers, the Henkel Global Academy provides an excellent and challenging framework for leadership development. The Henkel Global Academy represents the highest level of our development offerings and is partnered with renowned international business schools, such as the Thunderbird School of Global Management, the IESE Business School and Cranfield University. For our executive management, we offer leadership development courses at the famous Harvard Business School in Boston. Combining the very latest management knowledge and industry-wide best practice, our Henkel Global Academy ensures you have all the specific expertise you need for your work at Henkel, and promotes our management and leadership ethos.
Learning on demand – Henkel "eCademy"
The high dynamic of global markets result more and more in quickly outdated information. Our answer to these requirements are e-learnings, which add on to classical offline trainings and provide new know-how wherever and whenever it is needed.
Worldwide available around the clock: The e-learning platform eCademy is open for all employees around the world and can be accessed via the intranet 24 hours a day, seven days a week. Over 250 courses in up to 16 languages are available in different formats like quizzes, tutorials or video-trainings.
We give feedback – you push your career
We are looking for the best: For highly qualified and motivated employees. People who see global variation as an exciting opportunity. Talents who can strengthen our global team even further. Personalities, who are flexible and actively strive for success. Does that sound like you? If so, we would like to hear from you, regardless of whether you are starting out or are already an experienced professional.

We will help you develop your skills and plan your career for the long-term, equally emphasizing both management and specialist careers.
We will also support you to enhance your professional skills and attach great importance to job rotations.
We give our employees detailed and informal feedback on their performance on an ongoing basis, as well as official feedback within our globally standardized talent management process.  
Job rotations abroad
At Henkel, business is always international – even if you are working at our headquarters in Düsseldorf, where people from over 70 nations create a diverse, team-orientated working environment that is united in its pursuit of excellence. Eighty percent of our more than 53,000 employees work outside of Germany.
Henkel helps you to expand your horizons, because people with international experience make our global team successful.
That's why we follow our Triple Two philosophy: Throughout their career, high-performing employees work in at least two job roles in two different countries -and in two business units.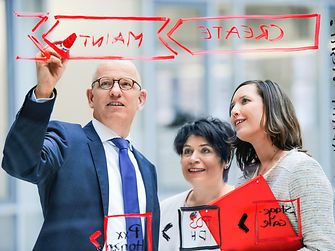 Diversity & Inclusion
For us diversity is a valuable contribution to Henkel's competitive advantage.
Your performance counts. And gets rewarded.
Do you compete to perform at your best? If the answer to this question is yes, you will soon discover how your performance gets rewarded at Henkel. Indeed, it is an important part of our company culture that compensation is performance-related and provides incentives for employees. We love setting ambitious targets and we also know how to reward strong performers accordingly. Furthermore, you will get a high social protection and attractive social benefits.