What we offer
We are one global team at Henkel and internationality is lived on a daily basis. At the Henkel headquarters alone, colleagues from more than 70 nationalities contribute every day to our common purpose: creating sustainable value.
We offer more than just jobs: we offer an inspiring working environment in which we shape business innovations and brands.
A driven team and dynamic career opportunities help you to develop both personally and professionally. Our Triple Two job rotation gives you the unique opportunity to boost your international experience, expand your skill set, and develop a network of expert contacts.
Our Employee Benefits at a Glance 
Training and Leadership Development
Talent Management
International Opportunities
Compensation


Development on every level
At Henkel we do not only continuously optimize the quality of our products, but we also seek to improve every day as a global team. 
In a competitive and fast-paced environment, it is critical to think in terms of "capabilities" – those we have and those we need to advance. Therefore, we are dedicated to developing and constantly improving our global training portfolio, create exciting learning opportunities and provide tools that meet latest market requirements as well as our employee's needs.
Our ambition is to future-proof our employees by helping them build the vital skills they need and enable them to unleash their full potential through learning!
Henkel Learning Hub
What we offer goes far beyond the classical classroom training. The platform to facilitate all learning is our Henkel Learning Hub. Here employees can access all trainings available at Henkel. 5,500+ classroom and digital learning resources, including e-learnings, webinars, and Virtual Instructor-Led Trainings.  Learning whenever and wherever our employees want!
Learning: global and scalable
At Henkel, we have a very extensive training and development program portfolio. In these programs knowledge and skills are transferred that are relevant for everyone, irrespective of experience level, professional background, or location. Examples from our portfolio: Personal Skills Trainings, Business Acumen Courses, Strategic Development Series and Digital Upskilling. 
We are partnering with renowned international Business Schools and training providers to ensure high-end learning experiences. 
In addition to that, we will train you to be able to meet the specific challenges of our different business areas and roles. Renowned academics and senior managers at Henkel will share their experience at tailor-made training programs, e.g. in marketing or finance, which are as hands-on as possible. This offers a maximum of practical relevance. At the same time, you will automatically build up your global network with international colleagues.
Leadership: grow towards future leadership skills
Today's leaders are confronted with an environment of increasing ambiguity, uncertainty, volatility, and at times, market disruption. At Henkel, we support our leaders to successfully navigate through this new norm. It is our ambition to develop strong leaders, who energize and empower their teams to quickly adapt to changes, who act with entrepreneurial spirit, proactively take decisions and demonstrate outstanding performance. Our diversified Leadership program portfolio offers a wide range of development opportunities on all levels - from first time leaders to the inspiring change driver of the organization. To ensure high-end learning experiences we are partnering with renowned international Business Schools and training providers.
We give feedback – you push your career
We are looking for the best: For highly qualified and motivated employees. People who see global variation as an exciting opportunity. Talents who can strengthen our global team even further. Personalities, who are flexible and actively strive for success. Does that sound like you? If so, we would like to hear from you, regardless of whether you are starting out or are already an experienced professional.

We will help you develop your skills and plan your career for the long-term, equally emphasizing both management and specialist careers.
We will also support you to enhance your professional skills and attach great importance to job rotations.
We give our employees detailed and informal feedback on their performance on an ongoing basis, as well as official feedback within our globally standardized talent management process.  
Job rotations abroad
At Henkel, business is always international – even if you are working at our headquarters in Düsseldorf, where people from over 70 nations create a diverse, team-orientated working environment that is united in its pursuit of excellence. Eighty percent of our more than 53,000 employees work outside of Germany.
Henkel helps you to expand your horizons, because people with international experience make our global team successful.
That's why we follow our Triple Two philosophy: Throughout their career, high-performing employees work in at least two job roles in two different countries -and in two business units.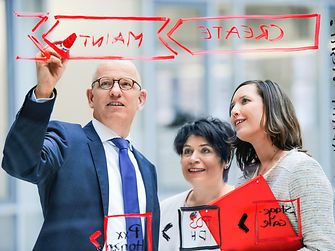 Diversity & Inclusion
For us diversity is a valuable contribution to Henkel's competitive advantage.
Your performance counts. And gets rewarded.
Do you compete to perform at your best? If the answer to this question is yes, you will soon discover how your performance gets rewarded at Henkel. Indeed, it is an important part of our company culture that compensation is performance-related and provides incentives for employees. We love setting ambitious targets and we also know how to reward strong performers accordingly. Furthermore, you will get a high social protection and attractive social benefits.